Slaw has a negative connotation due in part to its most popular version, coleslaw made with tons of mayonnaise. It doesn't have to be! I love slaw's ability to combine cabbage with the flavors of your choosing and then meld together creating a wonderful addition or side to most dinners.


Try your hand at unique combinations for slaw or try one of these: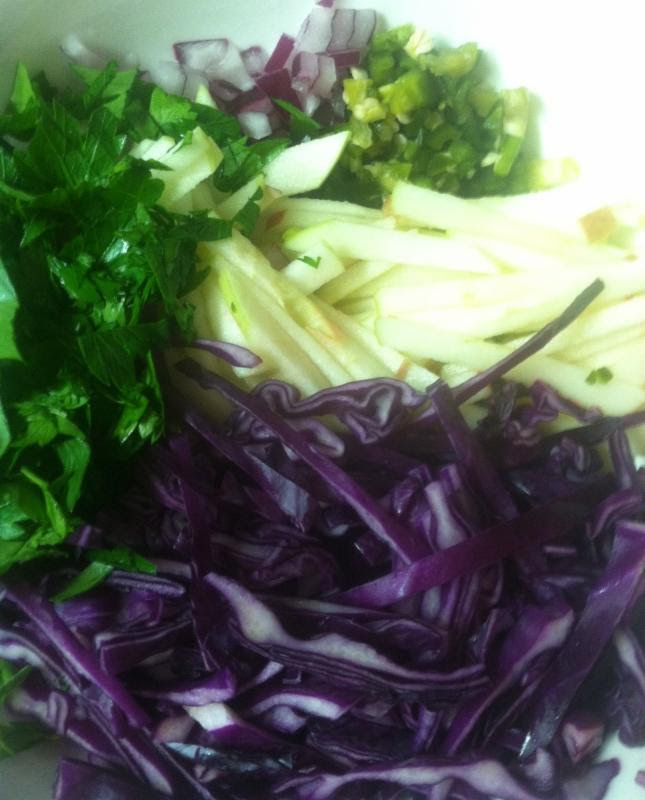 Serve with seared tuna
-Napa cabbage, sesame seeds, Sriracha, shredded carrots and sesame oil

Serve with grilled chicken:
-Green cabbage, lemon zest, juice of one lemon, baby greens from bok choy, kale, etc. and pine nuts

Top Fish Tacos:
-Green and red cabbage, Wasabi paste, lemon juice, cumin powder and Greek yogurt
This version of slaw features apples, sweet red onion, spicy pickled jalapeños and fresh lime juice. The crunchy cabbage and snappy apple work well to balance out the warmth of black beans and rice.
Apple Slaw with Black Beans and Rice
Ingredients:
-1 cup of julienned apple
-1 cup finely shredded red cabbage
-1/2 cup chopped cilantro, divided
-1/3 cup finely chopped red onion, divided
-1 fresh lime, juiced
-2 TBSP pickled jalapeños, chopped
-2 tablespoons vegetable oil
-3 garlic cloves, minced
-1 1/2 teaspoons chili powder
-1 teaspoon ground coriander
-3/4 teaspoon ground cumin
-2 cups low-salt chicken broth
-1 15-ounce can black beans, rinsed and drained
-Kosher salt and freshly ground black pepper
-2 cups cooked brown rice
-1 lb. cooked chicken, shredded
-4-6 lime wedges
Directions:
Cut slices of the apple around the core, leaving a rectangle shaped core. Lay the flat edge of the apple down on a board and cut horizontally. Flip the board 180 degrees and cut thin sticks out of the apple. Combine apple, cabbage, 1/4 cup cilantro, 2 tablespoons onion, jalapenos and lime juice in a small bowl; toss to coat. Set apple slaw aside.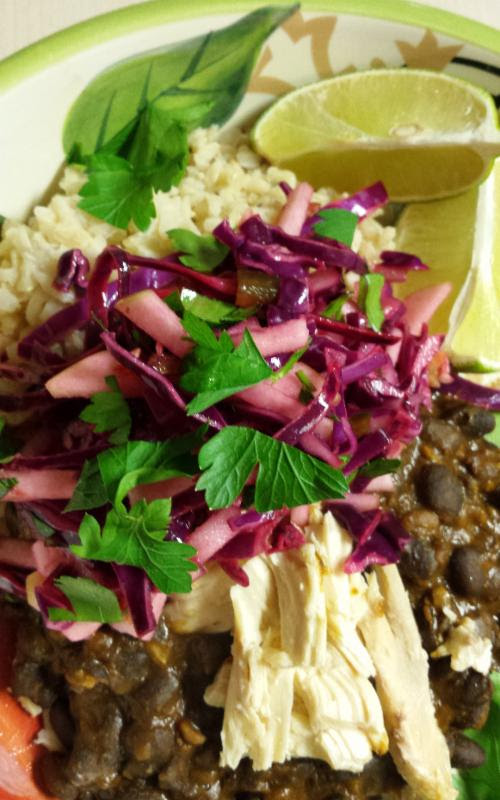 Combine remaining onion and oil in a large skillet. Cook over medium heat, stirring often, until completely softened, 6-7 minutes. Add garlic and next 3 ingredients; stir constantly for 2 minutes. Stir in broth and beans; bring to a boil. Reduce heat to medium; simmer briskly, mashing some of the beans with the back of a spoon and stirring often, until sauce is thickened, 8-10 minutes. Season with salt, pepper, and more lime juice, if desired.
Divide rice and beans among plates. Top with some chicken and apple slaw. Garnish with remaining 1/4 cup cilantro and lime wedges. Serves 2.
Administration Director & Healthy Food Enthusiast