I am ready to try new takes on old family favorites. Speaking of which, I'm sure your family, like mine, has some ubiquitous choices that are perhaps less than healthful. My best advice? Skip the true junk food (marshmallows aren't nutritious) and take small servings of your very favorite things if you can't find a way to lighten them up.
Vegetable soups are a wonderful (and easy) way to start a large dinner. Roast your favorite root vegetables (400 degrees for 45 minutes), blend until smooth, and combine with 4 to 6 cups of stock and heat. Homemade
soup
with no cream, yet still creamy and you control the amount of salt added. Adding a dish like veggie
soup
to start your feast will help fill you up with healthful vegetables so you eat less of the junk later.
Mushroom Agnolotti, Sweet Potato, Kale and
Bean
Soup
Ingredients:
-
9 oz. Wild Mushroom Agnolotti (suggest Buitoni brand)
-32 oz. chicken stock (unsalted)
-1 large sweet potato, peeled and diced
-1 can of butter beans, drained
-1 TBSP (each) chopped fresh rosemary, sage and thyme
-1 bunch kale, chopped and washed well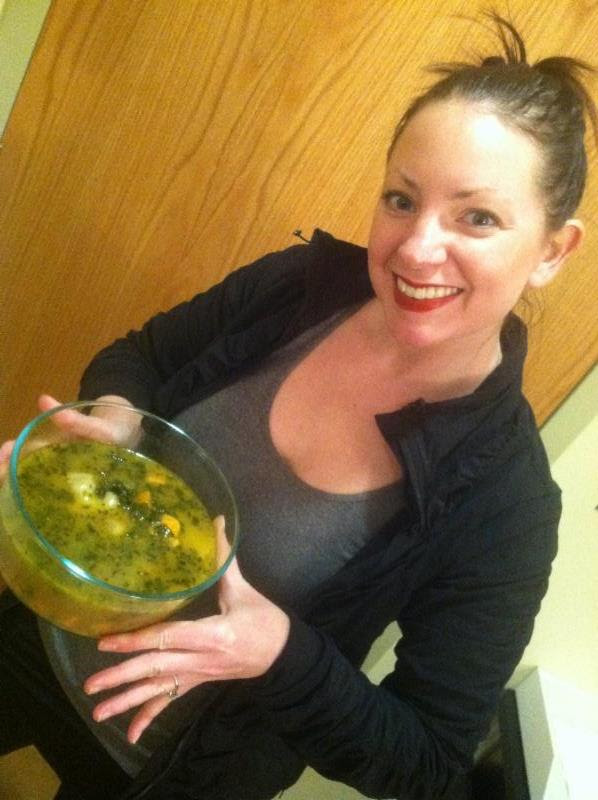 -1 small onion, chopped very fine
-2 TBSP. oil
Directions:
In a large pot, add oil and onion and cook until the onion is soft and translucent. Add the sweet potato, toss and then add chicken stock. Cook for 30 minutes in a soft simmer. Add the agnolotti, butter beans, kale and herbs to the pot. Bring back to a boil and cook for 6 minutes. Serves 6.
I'd love to hear your feedback!