Find longevity at the end of the rainbow! The new dietary guidelines from the American Dietetic Association encourage us to color our plate with a rainbow of foods. Why?
When you eat all the colors, you are working far more disease-combating nutrients and vitamins into your meal. Eat your way to longevity by consuming the five-color spectrum every day in each food category - vegetables, fruits, beans and legumes, nuts and grains.
Here are some examples for you: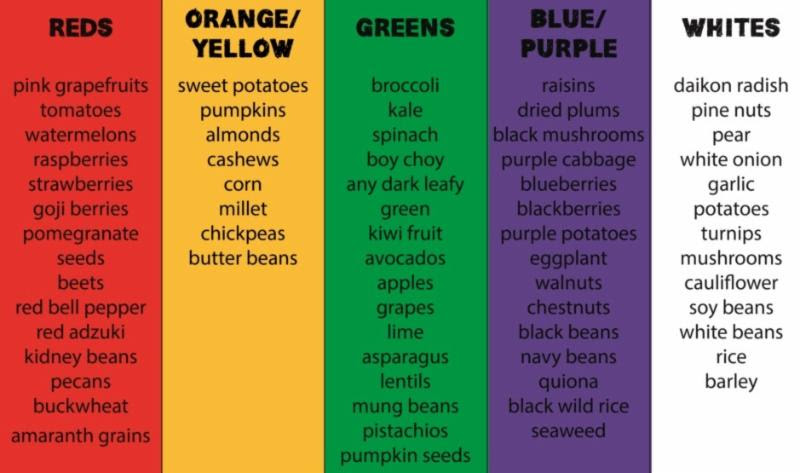 This recipe is a wonderful weeknight meal that can be cooked ahead of time and assembled as needed, perfect for families that cannot sit down to the table all together or have full schedules. I love the combination of nutty black rice and quinoa combined with the spicy cumin infused chicken breast all wrapped up in a crisp slice of lettuce and topped with tart lime and yogurt. It's a great example of how to eat from the rainbow in one meal! Red coming from the tomatoes and quinoa, orange from the millet, green from the avocado, cilantro, lime and lettuce, black/purple from the black beans and rice and finally white from the garlic.
Rainbow Tex Mex Chicken Lettuce Wraps
-1 lb. ground chicken breast
-1 TBSP oil
-2 TBSP Sriracha (optional) or 2 TBSP tomato paste for less heat
-1 tsp. cumin
-1 garlic clove, crushed and minced well
-1 cup broth or water
-½ cup red quinoa, cooked according to package directions
-1 can black beans, drained and rinsed
-1 cup cooked black rice
-½ cup cooked millet
-½ cup thawed corn kernels
-1 avocado, cut into chunks
-1 small tomato, cut into small dice
-2 TBSP fresh cilantro, chopped
-1 lime, sliced into wedges
-½ cup of plain Greek yogurt for garnish
-1 head Bibb or Boston lettuce
Make ahead: Try cooking all of the grains on a different night while you make other dinner plans. This way you'll just need to mix together and serve it up when you are ready for these wraps. If you have leftover grains and rice (since you don't need to waste energy by cooking such a small amount), try mixing them together into a version of this meal:
Plant Protein Pilaf
Cook quinoa, millet and black rice according to directions on package and distribute the correct amount into a large bowl. Combine in a skillet with the oil and chicken. Brown well and chop into small pieces. Add the Sriracha (or tomato paste) cumin, garlic paste and broth. Heat until the liquid has been absorbed. Add to the large bowl, the chicken mixture, corn, black beans, tomato and cilantro. Spoon about ½ to 2/3 cup into a washed and patted dry lettuce leaf. Top with a sprinkle of avocado, lime juice and yogurt.
Serving size 2 lettuce leaves filled with mixture.
Administration Director & BAC Foodie :)