In my research, I've found tons of recipes for curried egg salad...but never something as radical as apple horseradish egg salad. It's spicy, rich with a hint of onion flavor and herbs. I hope you enjoy this unique combination as much as I have. Plus, I've made it all the more healthful by substituting Greek yogurt for mayonnaise. Enjoy!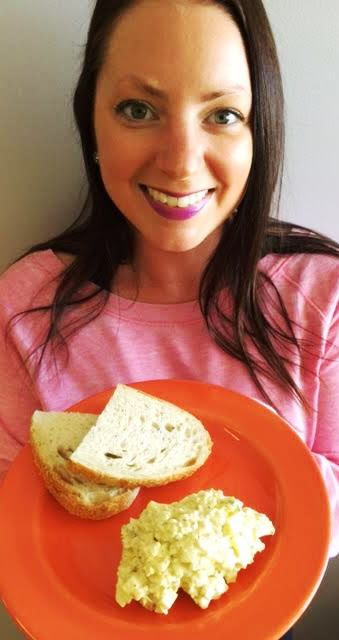 Apple Horseradish Egg Salad
Ingredients:
-6 large hard-boiled eggs, chopped
-1 medium apple, peeled and cut into 1/8-inch pieces
-1/2 cup 2% fat Greek Yogurt
-2 tablespoons scallion, thinly sliced (green section only)
-1 TBSP prepared horseradish
-1 1/2 TBSP apple cider vinegar
-1 1/2 tsp. Dijon mustard
-1/4 tsp. Herb de Provence
-Kosher salt and freshly ground pepper
-2 cups of spinach leaves
Directions:
In a small pot, cover the eggs with waterand bring to a boil, uncovered. Allow to boil for two minutes, remove from heat and cover. Allow to steam for 12 minutes and immediately run under cool water and peel.
In a medium bowl, add the yogurt, scallion, horseradish, apple cider vinegar, Dijon Mustard, Herb de Provence and whisk together. Toss the chopped eggs and apples. Taste and add salt and pepper to season to your preference. Allow to chill for 30 minutes to one hour. Serve on a bed of spinach and a hunk of cornbread. Serves 3.